By Samantha Stallard, Director of Marketing & Business Development
Across the world, business professionals are grappling with how to effectively work from home while simultaneously worrying about losing their jobs. While we are quarantined, essential personnel such as medical workers and delivery people are on the front lines, delicately balancing their personal health and safety with dwindling supplies and increasing exposure. But, everyone is competing for resources, as supermarkets, big box stores, and online retailers sell out of cleaning supplies, pantry items, and our new form of currency, toilet paper.
---
Coronavirus has seemingly divided our economy in half — businesses on the brink of financial collapse versus businesses that are booming, but struggling to meet demands and keep their employees safe. Panic levels are high as we adapt to social distancing and cancellations.
Thankfully, many brands, both big and small, haven't let fear or financial loss stop them from giving back to their communities during these scary times. From seemingly small acts of kindness to major donations that will help those who are sick and/or out of work, here are 10 brands that are putting the health and safety of people ahead of profits during the coronavirus pandemic:
The parent company of Christian Dior, Guerlain, and Givenchy will supply French authorities with at least 40 million masks this week. The luxury conglomerate tapped into its global distribution network to secure 10 million masks with a Chinese supplier, paying for the initial order itself. Earlier this month, LVMH also started manufacturing hand sanitizer in its French makeup and fragrance facilities to assist with dwindling disinfectant supplies.
The outdoor sporting goods store has closed all 162 retail locations nationwide through March 27, but will continue to sell products online. The company's President and CEO Eric Artz posted a letter to his customers on the REI blog about the closure, writing that "all employees from our stores will be paid during this temporary closure."
The brewing giant is making hand sanitizer and working with the Red Cross to determine where supplies will be needed most, while stressing it was being made "in addition" to beer during this time of international crisis. Additionally, many boutique New York distilleries, including Greenhook Ginsmiths, New York Distilling Company, and St. Agrestis Spirits, are also making in-house hand sanitizers — with beautiful bottles giving them a decidedly more artisanal feel.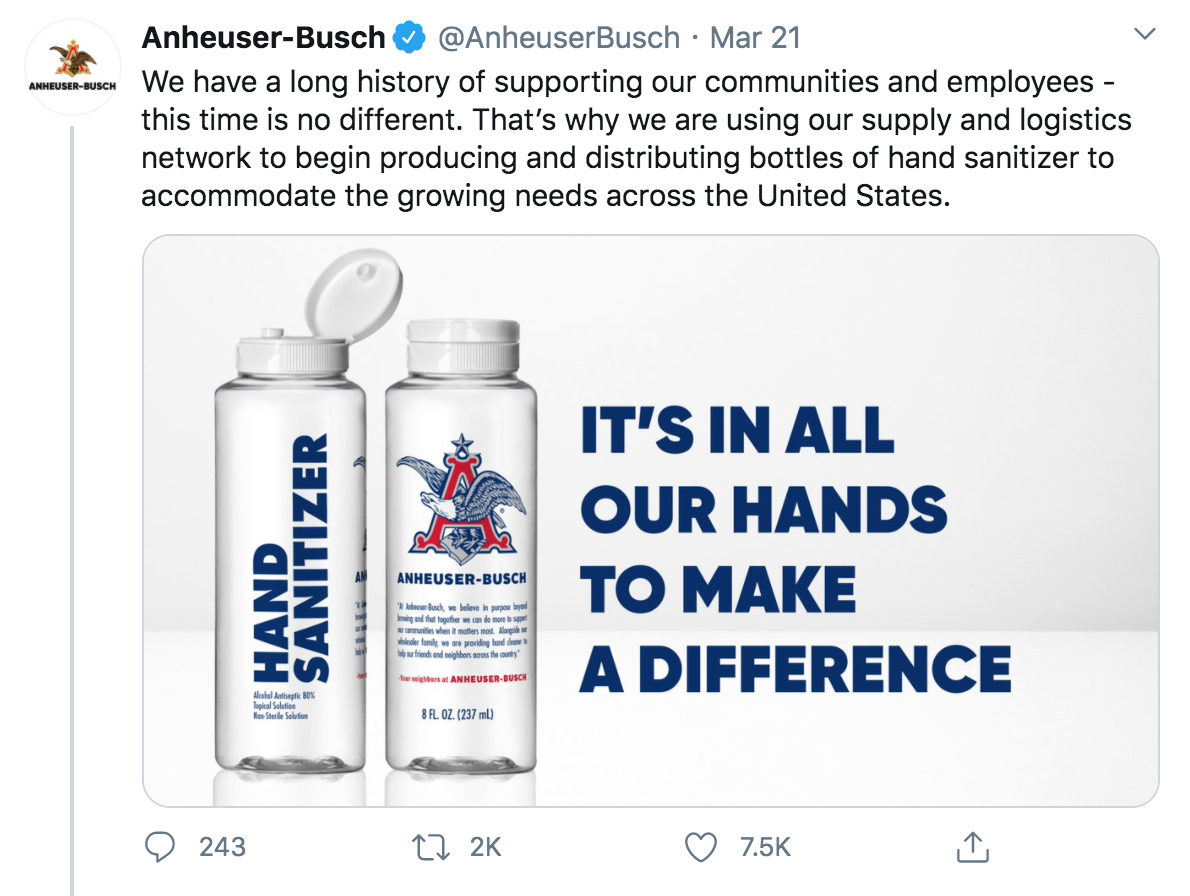 The video creation platform is teaming up with After-School All-Stars, an organization founded by former California Gov. Arnold Schwarzenegger, to help children who are are missing meals that they depend on due to school closings. TikTok is also donating $3 million to ASAS to help families in the 60 cities where the nonprofit has chapters and will match up to $1 million in employee donations — families will receive food vouchers and gift cards that can be used essential items through partnered grocery stores.
App co-founder Mike Krieger and his wife Kaitlyn launched SaveOurFaves, a directory of San Francisco restaurants selling gift certificates to offset lost income amidst "shelter in place" orders. Users can buy gift certificates straight from their favorite eateries with no added fees (with 700 restaurants and coffee shops currently listed). Similar sites for other locations are quickly popping up, including Help Main Street in New York, and Give Local and Rally for Restaurants, which provide directories for multiple cities.
The coffee chain has extended its mental health benefits in partnership with Lyra Health. Starbucks is offering its partners personalized, confidential mental health care, 20 free in-person or video sessions every year for partners and each of their eligible family members, and access to a provider network of mental health therapists and coaches.
Elon Musk, the CEO of Tesla and SpaceX, took to Twitter last week to announce that his factories were working to produce ventilators as the US faces a possible shortage. About 1,200 "state of the art" ventilators are expected to be ready for distribution in the US this week and Musk has promised more protective medical equipment, including other types of PPE (Personal Protective Equipment) to come soon.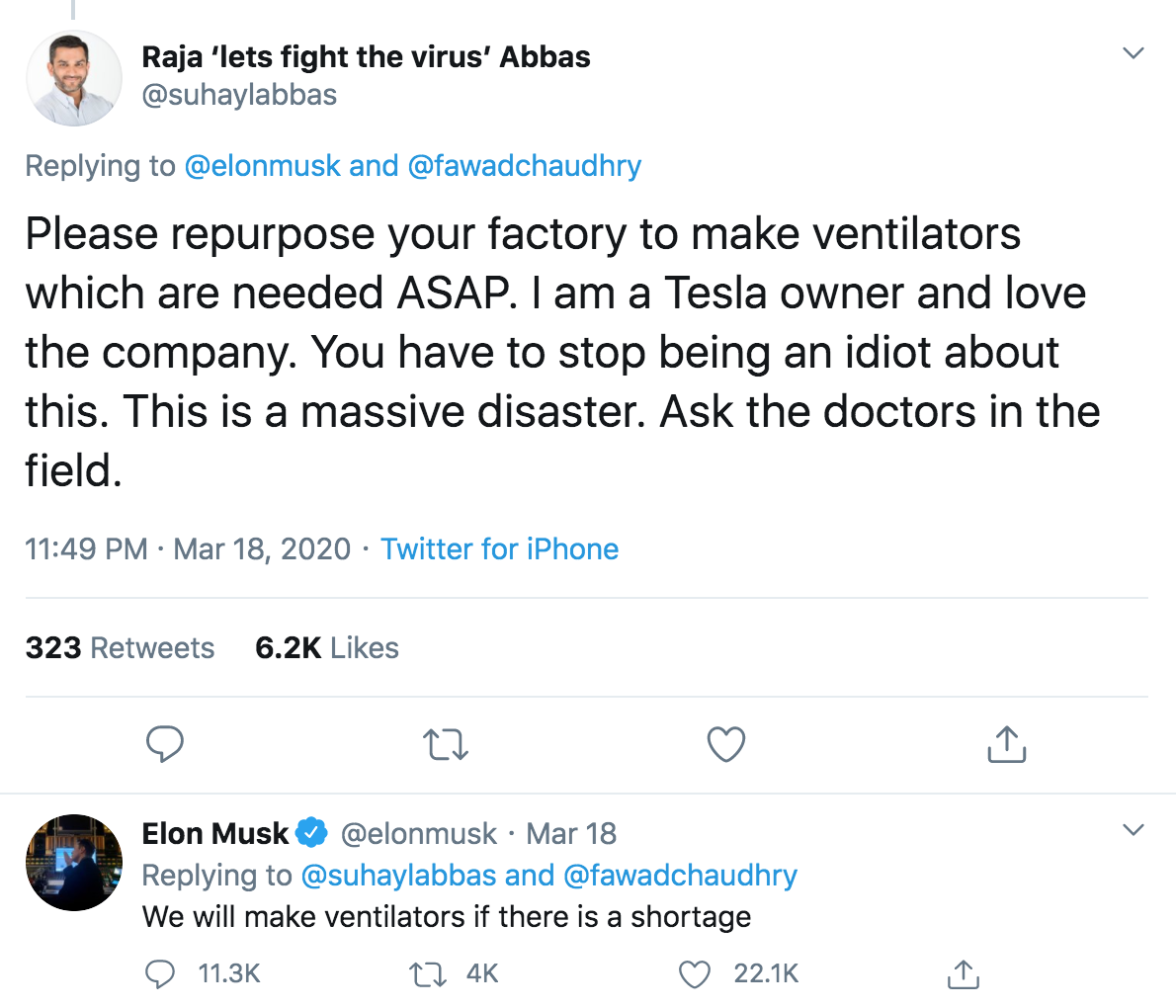 The retailer announced Friday that it would give employees a $2-per-hour pay raise, rolling out new benefits and bonuses as its staffers work to keep shelves stocked. In a press release, the company said it would give the raise to staff until at least May 2, making its new minimum wage $15 per hour. Additionally, 20,000 hourly workers who manage individual departments within stores will receive bonuses between $250 and $1,500.
On Monday, the made-to-order salad chain announced it will start dedicating Outpost operations and teams to support "those on the front lines" (meaning hospital workers and medical personnel) by delivering free salads and bowls to hospitals in the cities it serves. Those cities include Washington, DC, Philadelphia, Boston, New York City, San Francisco, Los Angeles, Chicago and Houston.
10. Celebrities
Celebrity is its own unique brand and, with actors and entrepreneurs some of the richest among us, we've come to expect their philanthropy during times of crisis. Kelly Ripa and Mark Consuelos donated $1 million to help the New York Governor's Office buy ventilators and to WIN, an organization running 11 women's shelters in New York City. Jennifer Garner and Amy Adams joined forces with Save the Children and No Kid Hungry for #SaveWithStories, filming themselves reading their favorite children's books to raise awareness and encourage others to give. Ryan Reynolds and Blake Lively donated $1 million to Feeding America and Food Banks Canada to help those in need. Shark Tank star and Dallas Mavericks owner Mark Cuban will continue paying team employees during the NBA's shutdown and announced he would donate $500,000 to the University of Texas Southwestern Medical Center and Parkland Hospital.
---
---
MORE INSIGHTS ARTICLES LIKE THIS ONE: