By Samantha Stallard, Director of Marketing & Business Development
Photo courtesy: @whiteowlaerial Instagram/whiteowlaerial.com
The fringe and flower crowns were out in full force on the grounds of the Empire Polo Club this past weekend for the first installment of the 2019 Coachella Valley Music and Arts Festival. Despite a last-minute cancellation from Solange blamed on "production delays," this year's event features headliners Childish Gambino, Tame Impala, and Ariana Grande — plus an Easter Sunday performance from Kanye West this weekend. Big-name brands are also flocking to the desert, both for on-site activations at the festival and invite-only off-site parties that draw high-profile musicians and celebrities.
---
---
Weekend One was relatively low key, with Kacey Musgraves proving that country can be cool (but she's never going to make "Yeehaw!" happen), BLACKPINK becoming the first all-female K-pop group to play the fest, Childish Gambino reminding the crowd of their mortality, and Ariana Grande making all Millennials scream with one declaration, "Make some noise for NSYNC!"
Coachella's origins date back to a 1993 Pearl Jam show at the Empire Polo Club - a form of boycott against Ticketmaster's dominance over venues in the early 1990s. The concert validated the site's viability for hosting large events, leading to the inaugural Coachella Festival over the course of two days in October 1999 — just three months after the disastrous Woodstock '99. This year, Coachella tickets started at $429 each (and climedb as high as $10k for some VIP and hotel packages) and sold out six hours after being released to the general public.
Coachella's success has proven that, for many attendees, the bragging rights associated with being there surpass the actual joy of the experience. It has transformed from its activist-origins in which is was all about the music, man! Now, it's all about the brands, man! The bigger the better! For example, starting in 2016, Uber invited the Coachella crowd to "soar through the desert sky with UberCHOPPER" and "reserve your UberCHOPPER powered by BLADE in Los Angeles and Orange County, and we'll get in touch to sort out all of your travel details. There's no traffic 1,000 feet in the air— you and five friends will land in style." The price tag for a quick copter ride to the desert? $4,170.
The parties, fashion shows, pop-up shops, and industry events at Coachella have pushed the actual musical performances into an afterthought. Instead of paying hundreds (more like thousands) of dollars to see good music, there are people who make the desert trek solely to be apart of the "scene."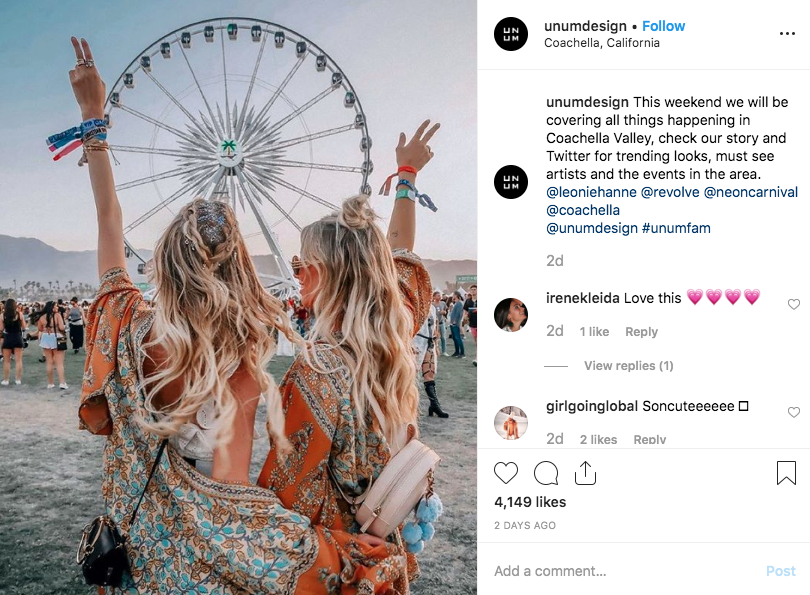 Photo courtesy: @unumdesign Instagram
While the residual effects of Coachella's continual growth have turned it into the hottest festival of the season, every season, between the helicopter shuttles, parties, branded fashion lines, and onslaught of industry initiatives, the festival has become more about branding than music. There is no shortage of brands fighting for space to activate at Coachella, but should they? Do the activations they produce truly foster authentic relationships with the consumer? The answer is a definitive maybe. Brands that do Coachella right are the ones that bring their own vision, voice, and mission to the valley instead of attempting to water down, or worse, completely alter, their vision for the sake of the "Coachella-aesthetic."
But let's chill with the pessimism. To answer the title's question, no, we have not ruined Coachella. We just have to accept the festival for what it is. It's no longer a music and arts festival, but it *is* an annual cultural moment, with the international visibility and brand power to promote such important topics as environmental sustainability, women's empowerment, technology, wellness, and fashion, among other of-the-moment topics. Here are the ways Coachella 2019 exemplifies these cultural moments:
Onsite
This year, organizers launched the "Every One" program designed to fight sexual harassment and assault. The initiative offers dedicated tents where attendees can meet with trained counselors, plus safety ambassadors who will monitor the grounds. The festival will also offer gender-neutral restrooms for the first time
Coachella also has increased sustainability initiatives, including a series of donation centers; leftover tents, sleeping bags, blankets, and non-perishable food are donated to the Galilee Center in Coachella Valley. An on-site "Coachella Waste Gang" will be walking the festival to show attendees how to dispose of their waste and almost all serviceware will be compostable
NYX Professional Makeup is responsible for an "Immersive Glitter Trip Experience," an Instagram-friendly beauty bar, while Calvin Klein hosts the multi-sensory #MyCalvins House. American Express's Card Member Lounge, also on festival grounds, will offer nail art, sneaker cleaning, exclusive merchandise, and a bar and lounge.
Lyft will also have a presence during both weekends, aiming to improve transportation options during the crowded festival. For drivers, the ride-sharing service will host a "driver pit stop" offering food discounts and a place to relax between rides.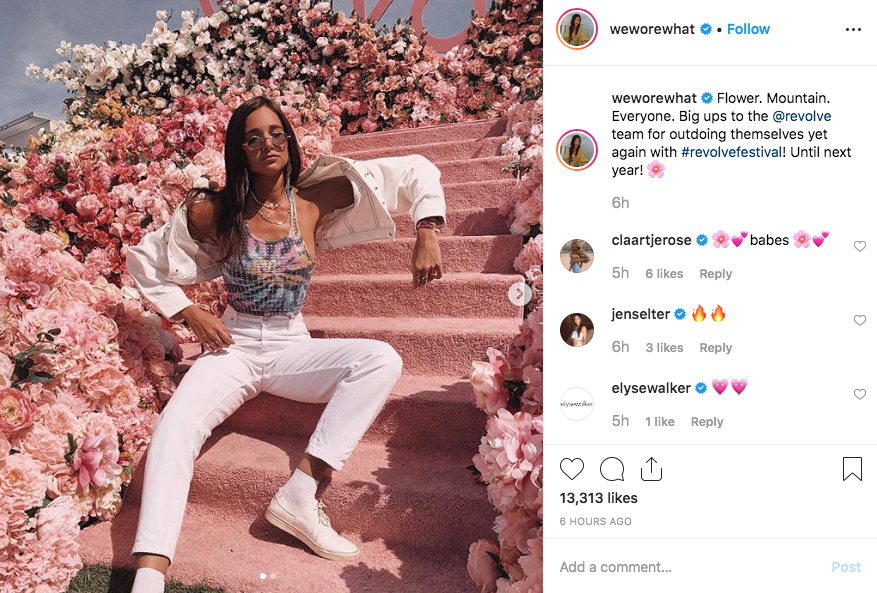 Photo courtesy: @weworewhat Instagram
Parties
Revolve Festival continues to be a favorite. Now in its fourth year, the invite-only event featured a stage curated by Top Dawg Entertainment, with performances by SZA, 2 Chainz, and Rae Sremmurd. The festival took place at a private location in La Quinta.
While there are no official parties associated with Coachella, fashion, media, and tech brands tend to blanket the region with pool parties and late-night blowouts, most during the buzzier first weekend. Arguably the most coveted after-party was weekend one's 10th edition of Neon Carnival.

The 8,000-attendee dance party, created by nightlife maven Brent Bolthouse, took over HITS Desert Horse Park on April 13. The Levi's-sponsored event had a layout spanning three football fields, with carnival games, amusement park rides, a bumper car installation from sponsor Bondi Sands, and a

Pokémon: Detective Pikachu-theme Ferris wheel.
Hotels in nearby Palm Springs see a slew of unofficial parties from big-name brands. Rachel Zoe and the Zoe Report hosted a Saint Tropez-themed party at the

Parker Palm Springs

on April 12, while the Hilton Palm Springs hosts Day Club Palm Springs—a pool party featuring top international DJs—over both Coachella weekends.
On April 13, Create & Cultivate hosted a pop-up at the Ace Hotel with music, food, and panel discussions from female entrepreneurs. Also at the Ace Hotel is Desert Gold, now in its 11th year. Taking place both weekends, the event offers guided meditation, live performances, and a comedy night.
---
---
MORE INSIGHTS ARTICLES LIKE THIS ONE: