By Samantha Stallard, Director of Marketing & Business Development
Photo courtesy: Vogue Facebook
Red carpet coverage is nothing new. We've been clamoring in front of our TVs to watch celebrities take slow walks from their cars to a theater since mother-daughter duo Joan and Melissa Rivers took over E!'s red carpet coverage in the 1990s. Their spontaneity and quick-witted critiques revolutionized the carpet into a stand-alone entertainment genre (today, E! covers all major award shows and begins their live coverage of The Academy Awards a staggering 10 hours before primetime). But there's something different about the Met gala...
---
---
... It's not an awards show or a movie premiere, not a product launch or an industry upfront. It's just a red carpet. Well, that's all we see anyway. Officially, it's the Metropolitan Museum of Art Costume Institute benefit, a black-tie extravaganza held the first Monday in May to raise money for the Costume Institute (the museum's fashion department). The party signals the opening of the Institute's annual blockbuster show and is known for its celebrity and fashion hosts.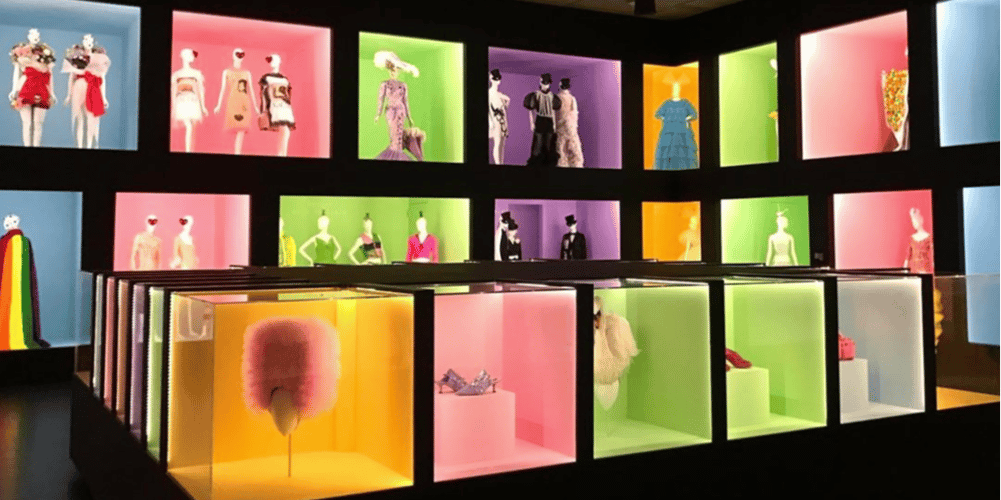 A preview of the "Camp: Notes on Fashion" exhibition before the gala. Photo courtesy: @metmuseum Instagram
Unlike other cultural fund-raisers, the Met gala is invitation only (there is a waiting list to attend) and while it used to be reserved for wealthy New York socialites, it's moved on to include models, musicians, actors, athletes, and their designer counterparts.
Tickets go for $35,000 apiece, and tables range from $200,000 to $300,000, with all money going directly to the self-funded Costume Institute. Vogue's Editor-in-Chief and gala co-chair, Anna Wintour, has final say over every invitation and attendee, which means that even if a company buys a table, it cannot choose everyone who sits there. Additionally, for the last three years, attendees have been forbidden from posting on social media once inside the event.
This year the exhibition, "Camp: Notes on Fashion," was a play on the Susan Sontag essay "Notes on Camp" and hosted by Condé Nast's own Wintour, the creative director of Gucci, Alessandro Michele, pop stars Harry Styles and Lady Gaga, and tennis pro, Serena Williams.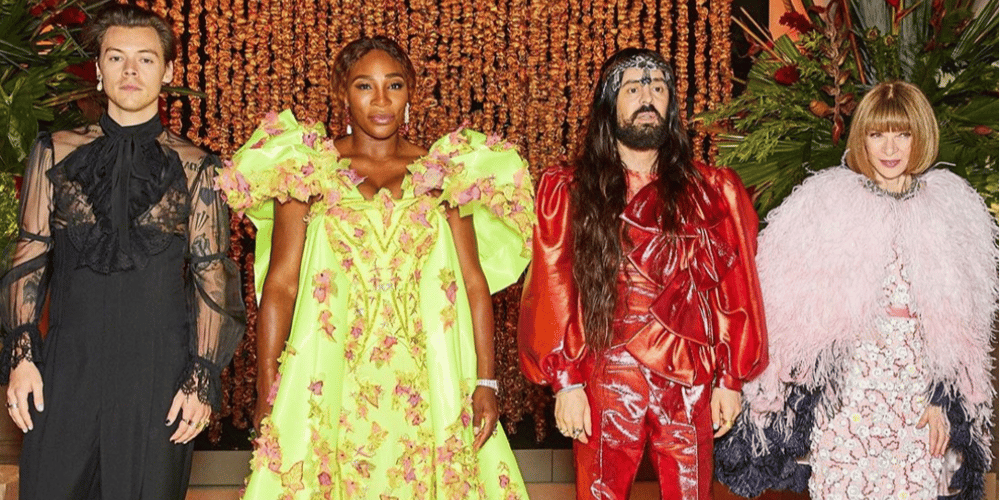 Some of 2019's Met gala hosts. Photo courtesy: @coreytenold for @vogue Instagram
So, when and how did an event-less red carpet become the annual cultural moment it is today? Of course, it's all about Anna, who took over as co-chair in 1995 and turned what was once just another New York societal dinner into the "Oscars of Fashion." Wintour chooses the theme, and de-facto dress code, personally. Past themes have included "Heavenly Bodies: Fashion and the Catholic Imagination," "China: Through the Looking Glass," and "AngloMania: Tradition and Transgression in British Fashion."
the Met gala is pure vanity with no apologies.
In today's culture, where Instagram is our sun and celebrity content is our currency, the Met gala is Queen. For one night, we get to watch the "most important people in the world" (irony not lost) gather together to bask in each other's beauty, wear millions of dollars worth of fashion and jewels, and hopefully do something scandalous ("Of course sometimes shit goes down when there's a billion dollars on an elevator").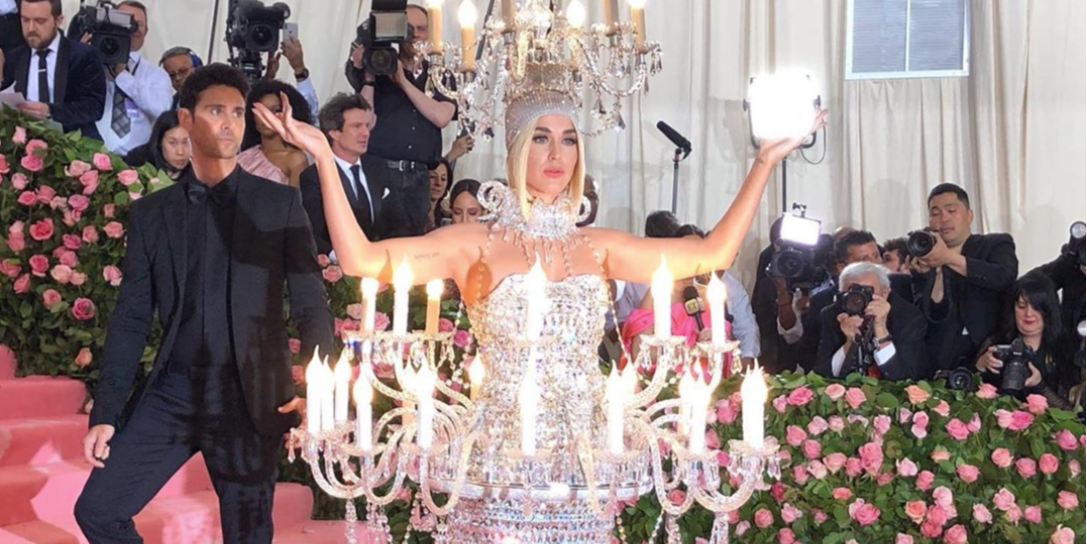 Katy Perry in a chandelier designed by Jeremy Scott. Photo courtesy: @metmuseum Instagram
The event is beyond aspirational, it's almost ethereal, and content consumers know that they will most likely never smoke on the floor of the Met bathroom with the Hadid sisters. The Met gala is the ultimate VIP event of the year and the fact that we have little to no idea of the experiences that go on inside make it all the more compelling.
On Monday, the gala reached its full potential by turning the red (or in this case, pink) carpet into an immersive theater experience, where the attendees became stage actors and their unique interpretations of camp became their stories. Past years have hinted to this form of entertainment, but in 2019, the quirky theme combined with an even kookier cast of characters created the perfect environment.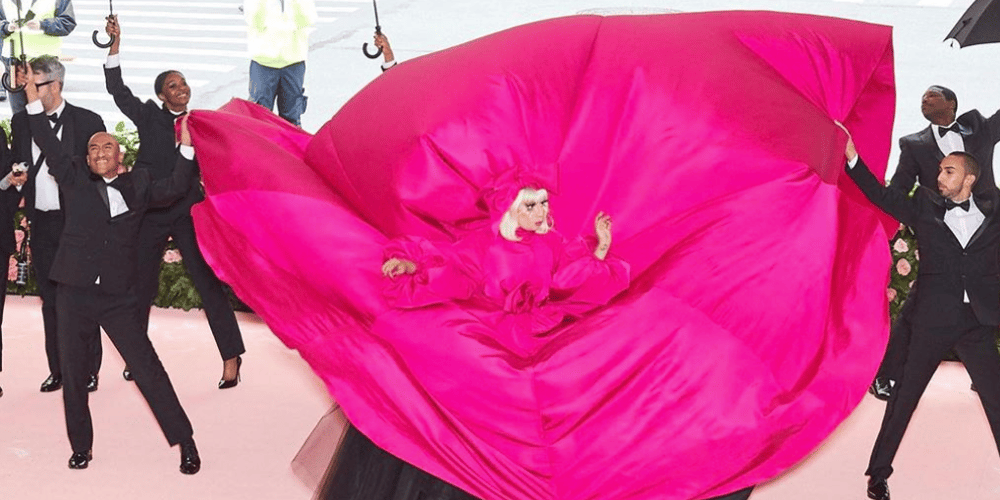 Lady Gaga arrives in her first of four looks by Brandon Maxwell. Photo courtesy: @coreytenold for @vogue Instagram
For example:
Lady Gaga arrived in a larger than life pink dress, but promptly stripped down to a black dress underneath, then another pink dress under that — and finally to her underwear

Wearing a red and crystal ensemble,

Jared Leto

arrived carrying a replica of his own head

Singer Kacey Musgraves dressed up as Barbie, wore an all-pink Moschino dress with perfectly coiffed blond wig, pink boa, pink cat-eye shades, and a hairdryer

Katy Perry came as a chandelier -- her headpiece weighed 40 pounds

Dressed in a gold bodysuit and matching headpiece, actor Billy Porter was carried onto the red carpet by six shirtless men
Now, we consume images, debate who "got" camp and who didn't, and wait for Wintour to announce 2020's theme.
---
---
MORE INSIGHTS ARTICLES LIKE THIS ONE: