By Samantha Stallard, Director of Marketing and Business Development
Many articles have been written over the past two weeks about how to stay connected to family and friends during social distancing. Those of us quarantining alone (myself included) depend on group FaceTime calls, long phone conversations, and tech like Zoom, Google Hangouts, and Netflix Party to keep us connected. But what about our professional relationships?
---
---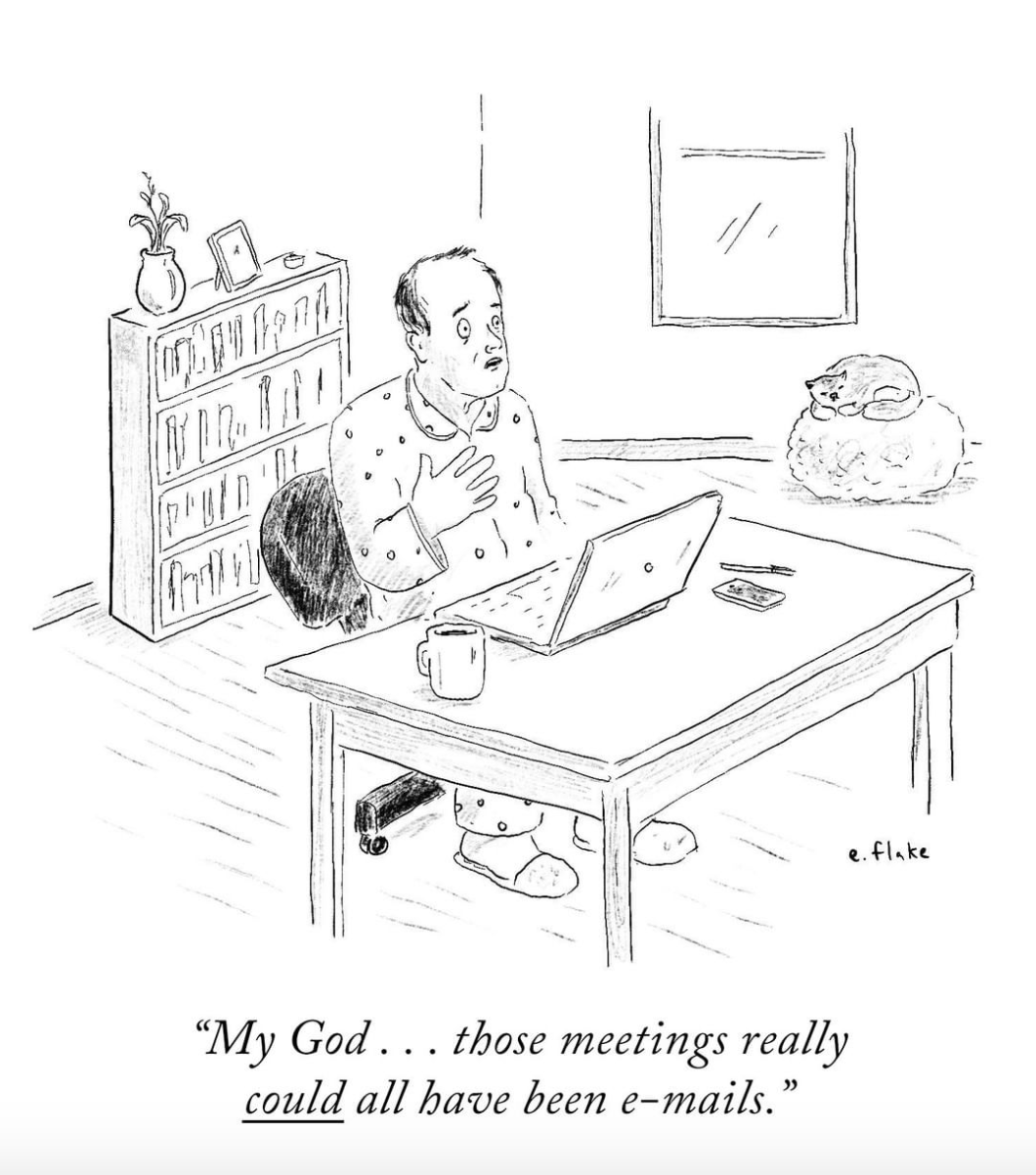 Cartoon courtesy: Emily Flake, The New Yorker
Millions of us have gone from getting dressed and commuting into an office everyday to changing into new (hopefully clean) sweatpants and shuffling to our laptops on the couch. We joke about the realization that so many of the meetings we occupied our days with could have been emails all along! But now is not the time to lose the face-to-face connection with our co-workers, because we need them more than ever.
I've been in corporate America for almost ten years and can only speak from my own perspective, but from my first job to my current one, my co-workers have always been like family. Maybe that's because I have worked for startups, maybe that's because I'm an emotionally vulnerable Millennial, or maybe that's because we spend one third of our lives at work and it's difficult not to care about the people you spend almost every day with.
Even though we're isolated alone or with family, it's imperative that we nurture our professional relationships right now, too. Here are four ways to stay connected to your co-workers and support each other during social distancing:
1. Get on the damn video conference
In normal circumstances, none of us like video conferences, especially when working from home. We don't want our clients or co-workers to see our messy apartments or unprofessional attire. But now is not the time to hide behind the sticker covering your webcam (come on, I can't be the only one who does that...). Do not just dial-in on your phone — meeting on video is more personal, there is less room for miscommunication when you can see someone's facial expressions and body language, and, for many like me, it might be the closest thing to a human interaction they get that day.
2. Hold weekly (or daily) one-on-ones with your direct reports
Even if business is slow and there is less work to discuss, as a boss you are a beacon of safety for your employees. A check-in with you is a check-in with their livelihoods. Review projects they're working on, brainstorm ideas together, and share what you're working on with them. Create a two-way communication channel where they feel comfortable asking questions, because there are a lot to ask right now! While you don't have to be a friend if that crosses the line, do be a mentor and a good listener.
3. Plan virtual lunches and/or happy hours
Yes, it sounds cheesy. Yes, it is cheesy, but a group of people can't all realize they're hungry at the same time and pop out to get $18 salads together right now. While we can't recreate "work culture" as we've come to expect it — catered lunches, game rooms, group yoga classes, or monthly potlucks — we can work with what we've got. So yes, you are going to feel silly cheers-ing a webcam, but the goal is to support one another and help each other navigate this unknown with grace and compassion. We also want to keep everyone in communication to avoid an awkward, stumbling transition when we're in the office again.
4. Be active on Slack
We're used to using the king of corporate communication tools as a place to hide from our email inboxes and bombard the human resources team with insurance questions, but it can do so much more than that. During social distancing, turn Slack into a business-wide connector to bond colleagues with similar interests or hobbies. Create dedicated channels to share at home workout tips and videos, volunteer/donation opportunities, cooking tips and recipes with a humble brag about the masterpiece you created last night, and even a mental health channel where you can check-in on each other and plan virtual mediation and wellness sessions.
No matter the industry, we are all a bit nervous right now. The world three months ago looks vastly different than the world three months from now. And no one understands your professional fears and worries more than your co-workers. Their empathy runs deeper than any friend or family member, because they're living it, too. Lean on each other and get on the damn video conference.
---
MORE INSIGHTS ARTICLES LIKE THIS ONE: