By Samantha Stallard, Director of Marketing & Business Development
Nothing is quite as personal as music. A familiar song has the power to elicit an emotional reaction and transport its listener to another place and time. Music is almost an emotion in itself — an incomprehensible force capable of defying our differences and drawing people together. The power to unite fans together and create a sense of community at an event or experience. The power to evoke a nostalgia. The power to establish trust. And the power to build loyalty with a brand.
---
---
Just for some backstory, Concierge.com began as an in-house software/service built for Pop2Life, an experiential marketing agency that is now owned by Condé Nast. Pop2Life's history in the music industry created the opportunity to build some pretty awesome, once-in-a-lifetime experiences for fans. Enter Dan Severs. While there were several people in the company that came from the music industry, Dan was tasked with being THE "music guy." His job was essentially developing partnerships between brands and artists that culminated with a special, "money-can't-buy" kind of event. I sat down with Dan to discuss his early days in radio, the value of a great experience, and how an incredible dog named Jersey has changed his professional path.
Tell me the story of your career.
My first job after college was in the promotion department at 92.3 K-ROCK, the old flagship station for the Howard Stern Show. I had interned there during college and earned a full time gig right before graduation. From there, I jumped at the opportunity to work at Warner Bros. Records. I began my career at WBR as the national promotion coordinator before being elevated to Southeast Regional Promotion manager, I subsequently held the same position in the Northeast.
My next stop would be Pop2Life (now called CNX under Condé Nast) where for the next 11 years, I would hold the position of Director of Music Initiatives. It was there that I really found my calling as I headed up all of our music events, collaborations, and brand partnerships for many of our clients. Over the years, we've worked with a slew of amazing artists including Taylor Swift, Keith Urban, Katy Perry, Jason Aldean, Garth Brooks, and many more. Music had always been a big part of what we did at Pop2Life and my responsibilities included strategic planning and execution of radio marketing/promotion programs for our clients as well as spearheading all of our artist partnerships. That included everything from identifying the right artist, to negotiating terms of a partnership, to execution of the event. I loved the lane I operated in, but I decided in December 2018 that it was time to move on.
Describe your latest venture, Thunderdog Entertainment. Where does the name come from?
My latest venture, Thunderdog Entertainment, was born from my desire to become my own boss and pursue the American dream. The name is near and dear to me. Long story short, in college my teammates on the hockey team would call me "Thunder Dan" and being a 90's kid that nickname became my AIM screen name. When my wife and I adopted our puppy, Jersey, back in 2005 some friends began calling him "Thunderdog" in solidarity. Jersey was, hands down, the greatest dog ever. He was truly my best friend and loyal as they come. We lost Jersey last summer to brain cancer which devastated our family, so when it came time to name my business it was a no brainer.
Severs' dog, Jersey, is not only the inspiration for the company name, but the logo is modeled after this photo of him
What skills did you develop early in your career that you still apply in your current role?
It's more of a trait than a skill — to be a hard worker. I spent summers working for my father's excavating company and it was not fun. It was hot, it was dirty, and it was hard, back breaking work, but it taught me to work hard and work smart. When I interviewed at Pop2Life 11 years ago, it was actually a story that I told Eric [Pop2Life's founder] about a particularly tough day at work that impressed him enough to hire me. Your question was about skills though, so I would probably say listen more than you speak and to be as thorough and thoughtful as possible when working with clients, partners, artists, vendors, and coworkers.
In your opinion, why is the CUSTOMER/GUEST experience so important at brand events?
To me, the customer experience is so important everywhere. Whether that's at an event, restaurant, shopping mall, or airport, nothing can take the shine off whatever it is you're doing than a bad experience. No matter how great your event is, or how awesome the programming or artists are, if your guests are treated poorly and the event doesn't run smoothly, you've failed. We are vying for people's time and attention who lead very busy lives and when consumers choose to attend our events they are choosing to spend a very precious commodity — their time with us. Rude staff, long lines, confusing signage and non-existent customer service can ruin the experience. Oh, and in this digital world, people can tell ALL of their friends (and followers) how bad their experience was.
What can brands do to improve the CUSTOMER experience?
In a word, care. That's what comes to mind first. Care enough to think through different scenarios, properly hire and train staff, listen to feedback, and most importantly put yourself in the customer's shoes. Care enough to want to create a great experience and don't just do it for the money. As I have gotten older (I'd rather think of it as wiser), I find myself becoming more particular when it comes to the finer details and the quality of goods, services, or experiences.
Tell us about some of the coolest brands you've worked with. What made the experience stand out so positively?
I have had the pleasure of working with great partners, and two that stand out are HGTV and AMC Networks. Both have heavily invested in music partnerships and I've enjoyed helping them find the right artist at the right time to promote their respective priorities.
My most memorable partnership was when we helped launch AMC's show Hell on Wheels with a Jason Aldean/CMA Awards partnership. We rented a train, branded it, and rolled into downtown Nashville with contest winners for a meet and greet with Aldean, then he played a free show for a few thousand fans at the train station before winning a couple of CMA Awards that weekend. The partnership was so successful for AMC and Aldean that we ended up executing similar partnerships with some of the biggest artists in country music for the entire six season run of Hell on Wheels, including Luke Bryan, Zac Brown Band, Dierks Bentley, Brad Paisley, and Brantley Gilbert. I'm a huge country music fan so it's exciting anytime we get to partner with a country artist. Dierks Bentley has probably been my favorite artist to work with — we've partnered with his camp three or four times and they're always phenomenal.
Another brand I am honored to work with is Bonnaroo (AC Entertainment). The Bonnaroo Music & Arts Festival has been around since 2002 and was named one of the "50 Moments that Changed Rock & Roll" by Rolling Stone. This is the third year I'll be handling all of their radio marketing initiatives. I'm also excited to say that I'll be handling the same duties for another brand new festival produced by AC Entertainment called Exit 111. Thankfully, I will be working side-by-side with my friends at Concierge.com who will be handling the customer experience management for these events.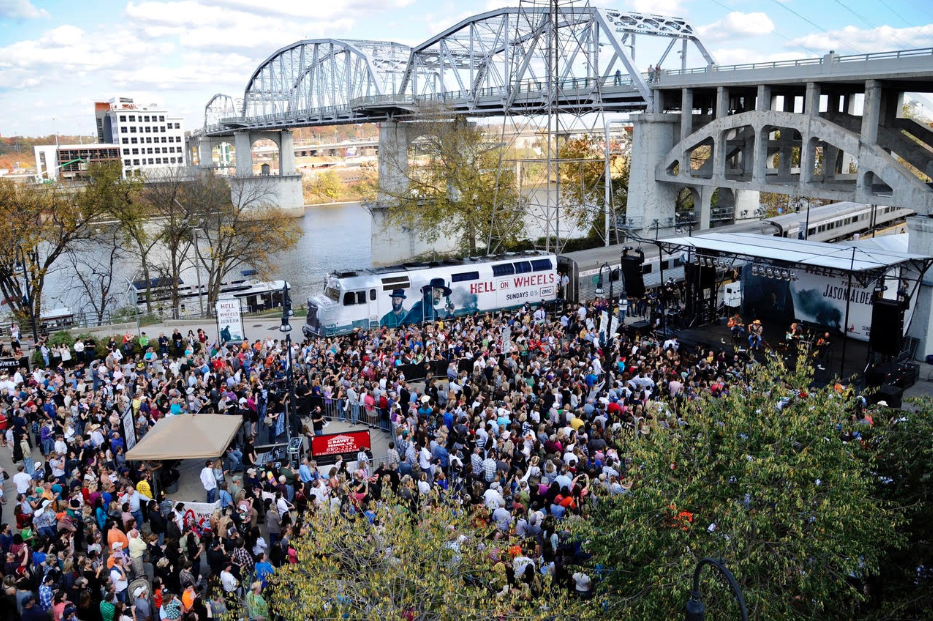 Country singer Jason Aldean performs for a packed crowd outside the Hell on Wheels train in downtown Nashville, TN
If you were to advise a brand hosting an event for the first time, what advice would you give them?
Be authentic, take pride in what you do, focus on quality, and care. We touched on some of the reasons why earlier, but I can't stress enough that you truly need to care about these things when attendees are willing to not only give you their money, but equally important their time.
What's next for you and Thunderdog Entertainment?
Personal growth has always been very important to me. I don't ever want to feel stagnant or that I am not evolving. It is for those reasons that I am actively pursuing business ventures with partners that push me to grow in areas that might be outside of my comfort zone or expertise. The first four months of Thunderdog Entertainment have been amazing! I am eagerly looking forward to what the future brings!
| | |
| --- | --- |
| | Dan Severs is the president of Thunderdog Entertainment, a music and marketing agency that specializes in artist/brand partnerships, live events, talent procurement and strategy, and radio partnerships. Severs previously spent 11 years as Director of Music Initiatives at Pop2Life/CNX, spearheading brand partnerships and high profile events with core clients including HGTV, CMA, AC Entertainment, Royal Caribbean, Atlantis, AMC, and Disney. Prior stints include Warner Bros. Records and K-ROCK/NY. When not working, Severs can be found playing ice hockey or coaching his kids' soccer, baseball, and softball teams. |
---
---
MORE INSIGHTS ARTICLES LIKE THIS ONE: