By Samantha Stallard, Director of Marketing & Business Development
Vogue's annual Forces of Fashion conference is truly a force of planning. This year's gathering of the fashion industry's elite took place October 10th and 11th at Spring Studios in New York City. Over the course of two days, conference attendees listened to panel discussions and intimate conversations about the business behind fashion, while designers, models, photographers, and stars spoke about the highs and lows of the industry.
---
---
Of course, pulling off such a high profile, large scale event required incredible preparation from the Vogue team, as editor-in-chief, Anna Wintour, and company played host to such famous names as Cardi B, Tom Ford, Julianne Moore, Donatella Versace, Tory Burch, Cindy Crawford, Kaia Gerber, Grace Wales Bonner, Tyler Mitchell, Prabal Gurung, and Aurora James, just to name a few.
Behind-the-scenes, Vogue's Director of Special Events, Anna Suarez, and her team were busy planning the conference's logistics such as ticketing, corporate partnerships, catering, and, of course, managing the guest experience for speakers and attendees alike. I sat down with Suarez to discuss her background in the event world, the history of the Forces of Fashion conference, and her best piece of event planning advice:
Samantha Stallard: How did your career at Vogue begin?
Anna Suarez: I joined Vogue about two months before the 2019 Costume Institute Benefit and had to jump right into a world of fashion, celebrity, and culture. It was a thrilling whirlwind of learning a new environment, managing the expectations of a new boss, and being on the forefront of what is known by the world as the biggest event of the year.
SS: Tell us about the history of Vogue Forces of Fashion. When and how did it begin?
AS: Vogue's Forces of Fashion began three years ago out of a desire to bring the most creative, thoughtful, dynamic and exciting talents from the worlds of fashion and entertainment together to have real conversations about the industry and the future. Over the last three events, we have defined what it means to be a "force of fashion" and examined where the industry and the world around it is headed.
While this was my first Forces of Fashion experience, my familiarity with the event proved helpful in planning. This year, we expanded programming over two days allowing for more authentic conversations and more meaningful networking time between our audience, editors and special guests.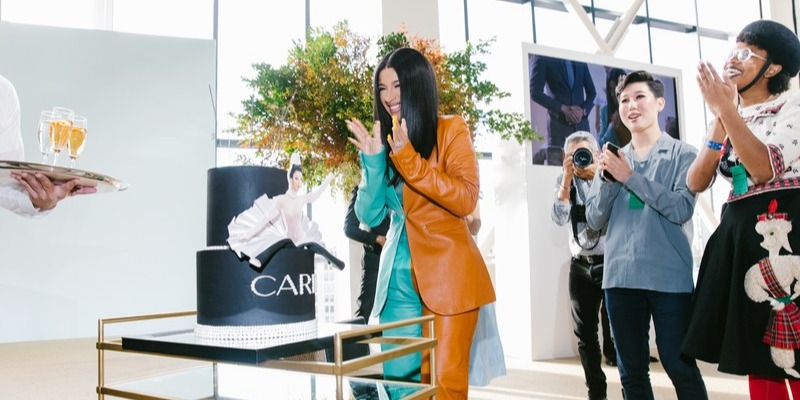 Cardi B receives her surprise birthday cake inspired by the Mugler dress she wore to the 2019 Grammy Awards. Photo courtesy: Corey Tenold for Vogue
SS: Describe Forces of Fashion's planning process. How big a role does the guest experience play when you're planning every year?
AS: Guest experience is central to planning any event, particularly at Vogue in which every experience we deliver must live up to the title's legacy and premium reputation. We began planning Forces by addressing the comments we received from the last two years. Our guests craved more networking time, more opportunities to interact with our editors, and different food options. Events, editorial, marketing, and sponsorship were all united in listening to this feedback and developing responsively curated programming and activations.
This year, we brought back the Vogue shop so guests could take a piece of Vogue home with them, expanded our hosted designer/editor lunch, allowed for more breaks, created an Instagram moment with Anna Wintour's iconic desk, and improved our food selection with more snacks and more champagne.
SS: Describe Vogue's relationship with
its
audience. How do their personalities and interests influence the event experience?
AS: Our audience varies from those currently working in fashion, to life-long fashion-lovers, to students looking to break into the industry. Vogue's editorial team works tirelessly to curate conversations that speak to these varied interests, ambitions, and points of access and approach to the expansive fashion ecosystem. While our audience is diverse, it was clear they were all unified in their passion for fashion and this year's theme: Forces for the Future. Each conversation looked at change, and we worked to weave "what's next?" throughout the fabric of Forces.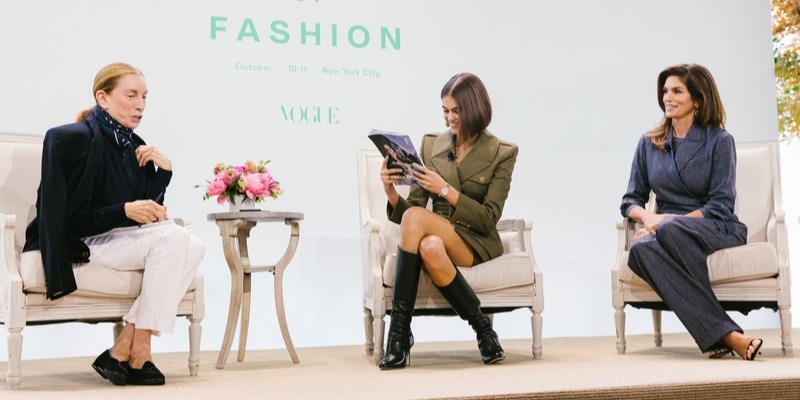 Kaia Gerber and Cindy Crawford on stage with Tonne Goodman. Photo courtesy: Corey Tenold for Vogue
SS: What is your best piece of planning advice to share with other event marketers?
AS: When planning large-scale conferences and events, it can be easy to lose sight of the smallest of details, but these little finishes and detailed touches can make all the difference in the guest experience. I also think it is important to trust your team and rely on the depth and breadth of experience in the room to deliver an exceptional event.
SS: What is your all time favorite Forces of Fashion experience or memory?
AS: I have a few to name — from hearing Tom Ford in conversation with Julianne Moore, to watching the master craftsmen from the Carolina Herrera atelier recreate a gown from their Spring 2020 collection and rewarding a lucky audience member with her very own dress — to surprising Cardi B with a birthday cake inspired by her iconic Mugler dress from the 2019 Grammy Awards, and finally to the closing out our two-day adventure with an incredible keynote from two fashion icons: Donatella Versace and Anna Wintour, Forces was filled with many unforgettable moments. This was an amazing event to be a part of, and I look forward to seeing how Forces continues to grow in 2020 and beyond.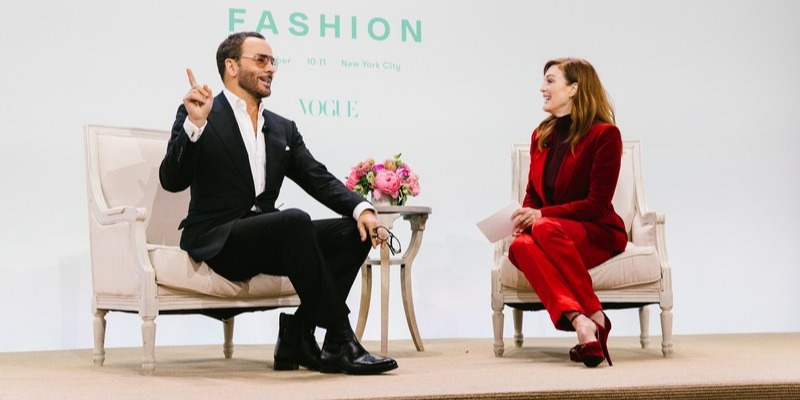 Tom Ford in conversation with Julianne Moore. Photo courtesy: Corey Tenold for Vogue
---
Anna Victoria Suarez began her career at Vogue in March 2019. Prior to Conde Nast, she worked at Foote, Cone & Belding as the Head of Global Events, spearheading planning and production of FCB Global events including their participation in the Cannes Lions Festival of Creativity. Suarez also produced events at Lincoln Center for the Performing Arts, and New York magazine, where she assisted in the production of marquee events, including New York Taste, New York Culinary Experience, the New York Weddings Event, Grub Street Food Festival, and the first Vulture Festival.

Her passion for events and hospitality comes from watching her mother host innumerable parties and events in Washington, DC and Puerto Rico. When she's not planning events, Suarez enjoys exploring the city with her husband and five year old mutt, crafting, dancing, and interior decorating.
---
---
MORE INSIGHTS ARTICLES LIKE THIS ONE: