By Samantha Stallard, Director of Marketing & Business Development
What a time to be an event professional. When we began our initial plans for 2020, we discussed details like AR/VR implementation, VIP management, and improved personalization technology. Now, our conversations are a little more serious and urgent, as we rush to adjust budgets, pivot to digital, and strategize with clients and consumers.
---
I still have faith in the event industry — and hope you do, too. I've read many (many!) articles over the past few weeks attempting to predict what the future of events will look like. We'll be 100% digital and Coachella will be hosted on Zoom! We'll go under the radar for a few months and then come back and better than ever in the fall!
Luckily, I'm not in the predictions business, so I won't pretend to comprehend what the world will look like in the coming months, but I'm overcome with pride for how the event industry has handled this blow. First and foremost, we've kept our guests safe by canceling and postponing. We didn't let money or fear stand in the way of doing the right thing — and we continue to do the right thing every damn day by staying in contact with our customers, making major planning adjustments, and discouraging the world from reopening too soon, even if we would financially benefit.
With all this time for reflection and planning, our team has seen a few patterns emerge about both the nature of events and the people behind them. Here are six things we've learned about events in a world without events:
1. People value human connection
More than VIP upgrades, bragging rights, or a curated Instagram Story, people go to events to have a shared experience. Whether that be with the loved ones they planned with for months or the like-minded strangers they shared the experience alongside, events make us feel apart of a community. This is the time to keep those communal ties bonded on social media by posing questions to your followers, engaging them with polls, and sparking nostalgia with content from past years.
2. Content matters, but experience matters more
While event professionals meticulously plan every detail of their event's content, from choosing the lineup at music festivals to curating five different attendee tracks at sales conferences, it's the guest experience that matters most of all. While showmanship will always be important, we often remember making friends with the people behind us in line at the concert or the last-minute hotel upgrade at an industry conference more than the keynote speaker.

3. Some events can pivot to digital
Events that are primarily focused on delivering a one-way performance to an audience can easily be achieved by most streaming tools. Instagram Live allows users to stream video to followers and engage with them in real time, and unlike a standard story, it does not have a time limit and can be saved in your handle's stories for later viewing. Zoom is perfect for presentations, talks, and panels with additional controls such as screen-sharing capabilities and post-call analytics.
4. Some events cannot pivot to digital
It's important to understand the distinction. While behind-the-scenes documentaries and at-home performances can hold us over during quarantine, no digital event will ever take the place of an experience like Coachella or iHeartRadio Music Festival. So, if you plan multi-day, interactive, experience-based events, share content online, but implement these strategies as a shelter-at-home placeholder, not a "digital version" of the IRL experience your guests crave.

5. Event marketers are strategic AF
If there's one thing we've learned in the event industry, it's that back-up plans are everything. Rarely, even in the best of times, does an event go according to plan. From inclement weather to no-show vendors, the only predictable thing about events is their unpredictability, so when the world quickly changed, we followed suit. We've taken major, international gatherings and built them their own online worlds in a matter of weeks, donated our resources to hospitals, and implemented social media strategies.
6. Events will look different, but will return
The desire to experience live events outside our homes will never go away — humans are social creatures who crave companionship and exposure. While we may have to start small to accommodate social distancing and decreased budgets, imagine what a magical experience your next event will be. I don't want to read another article about how "the world will never be the same." The world wasn't perfect and change doesn't have to be negative. We will learn and grow from this experience, in fact, we already have.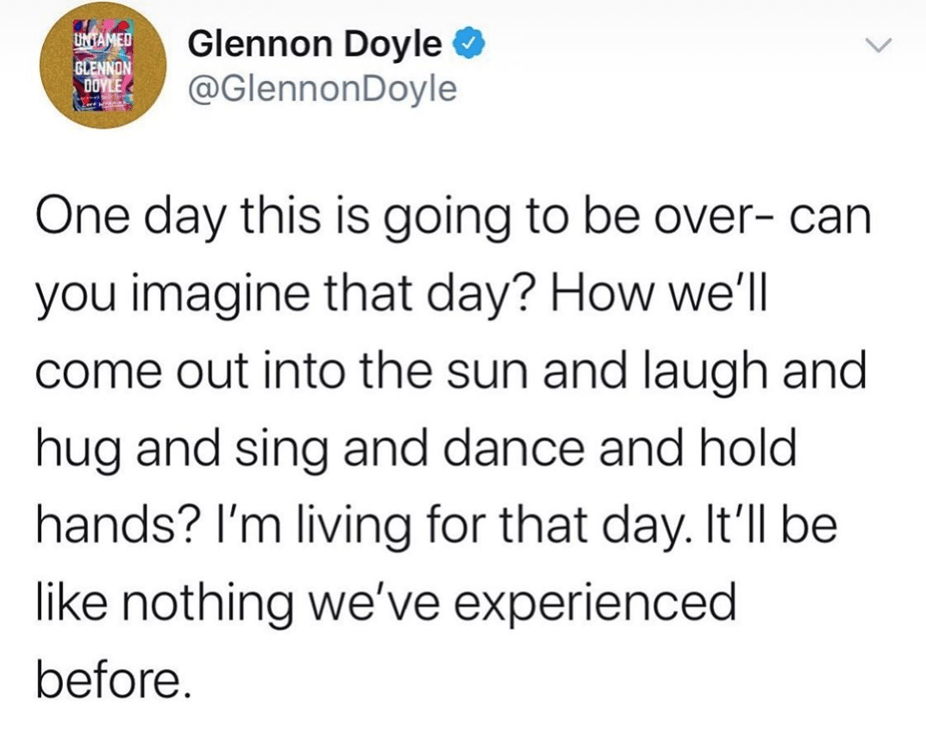 Tweet courtesy: @GlennonDoyle
---
---
MORE INSIGHTS ARTICLES LIKE THIS ONE: